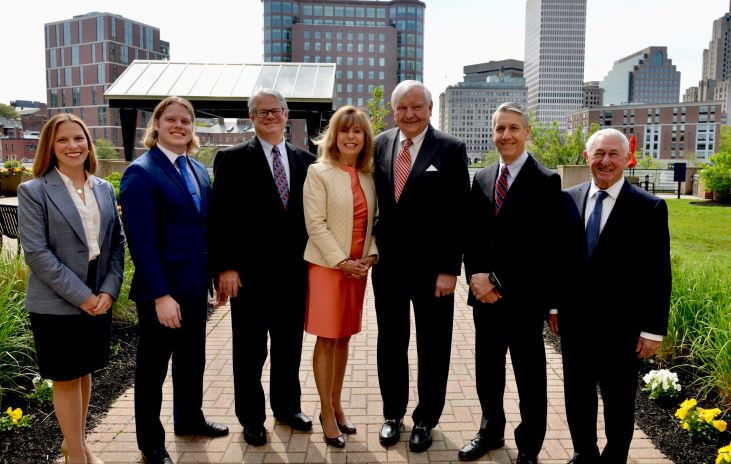 McIntyre Tate LLP was founded 30 years ago with one goal in mind: providing the residents of Rhode Island with sophisticated legal representation.
From day one, we established ourselves as trusted advisors in the legal field. We grew from a boutique local firm to a nationally recognized collection of attorneys, and we never lost our flair for personalized advocacy. As the years went on, we gained a reputation for unparalleled experience, unsurpassed service, and unmatched dedication.
Unparalleled Experience
At McIntyre Tate LLP, our legal team has more than 150 years of combined experience. Individually, many of our attorneys have been working in family law and civil litigation for over two decades each, creating a depth of experience few others can match.
Unsurpassed Service
When you hire our firm, you will receive not only an outstanding lawyer but also a cohesive legal team. This creativity and collaboration help us provide you with innovative and concise legal solutions. Additionally, your case will never be just a number to us. We are selective about the clients we take on and limit our caseload so we can give you the most compassionate, individualized service possible.
Unmatched Dedication
Every day, every person at our firm comes to work for YOU. We retain paralegals, support staff, and experts to ensure we have the resources for high-end cases. If litigation becomes necessary, we will not hesitate to move forward, and we will prepare thoroughly for trial or courtroom proceedings.
Highlights from the Past Quarter-Century
We've collected a lot of accolades in the past 30 years.
Below are some of our favorites from the last decade:
Recognized by U.S. News Best Lawyers® "Best Law Firms" – 2015 to 2020
Included in The Best Lawyers in America® – 2015 to 2020
Featured in Super Lawyers Business Edition – 2011, 2016 to 2019
Featured as a Top 12 Business in Providence's Finest Profile Series – 2014
Recent awards bestowed on our attorneys include the 2019 Community Champion Award, given to Stephen M. Prignano, and the Rhode Island Lawyers Weekly "Hall of Fame" Award, presented to Deborah M. Tate in February.
Put 30 Years of Proven Results on Your Side
If you need to make a change in your family or business, look no further than McIntyre Tate. We're a big firm with a boutique feel, which means we have the resources we need to solve your case and the warmth we need to make you feel at home.
We also have a lasting reputation of both local trust and national acclaim, and some of the kindest, most experienced attorneys in Rhode Island. As we celebrate 30 years of success, allow us to extend our comforting hand and professional legal guidance to you.
Start today with a phone call to (401) 351-7700 and a private, straightforward case evaluation.