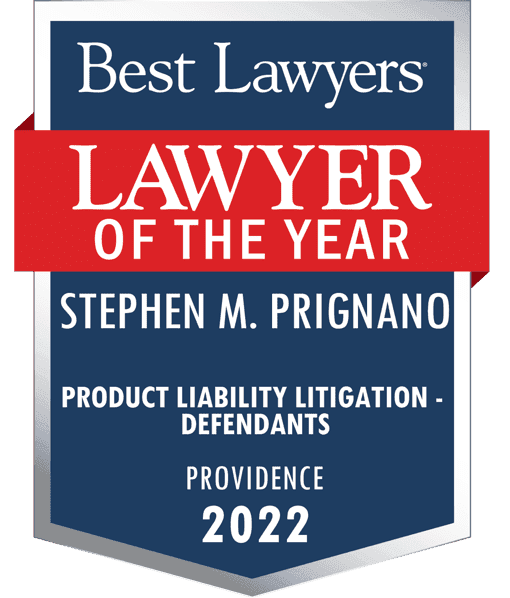 Our team at McIntyre Tate LLP offers the warmest congratulations to our very own Attorney Stephen M. Prignano for being recognized by Best Lawyers®. He was awarded Lawyer of the Year in the practice area of Product Liability Litigation – Defendants in Providence. In addition to this honor, he was included in the 28th edition of The Best Lawyers in America® for Bet-the-Company Litigation, Commercial Litigation, and Product Liability Litigation.
Receiving this award is an amazing achievement, as it is based on peer reviews.
The selection process for The Best Lawyers in America® list includes the following:
Nominations: An attorney must first be nominated by anyone other than themselves.
Peer feedback: The names of nominated lawyers are included on a ballot distributed to the candidate's colleagues who are currently recognized by Best Lawyers®. Their peers confidentially evaluate their level of legal service.
Analysis: Best Lawyers® reviews the feedback from the voters.
Eligibility: The organization then ensures that potential listees are in good standing with their local bar association.
Again, we are extremely proud of Attorney Stephen M. Prignano for his accomplishment!
About Best Lawyers®
For 40 years, Best Lawyers® has recognized attorneys demonstrating high-caliber legal talent as identified by their peers. The organization uses a sophisticated selection methodology based on the idea that top-performing lawyers can identify other top performers.
About Attorney Stephen M. Prignano
Steve is a talented lawyer with a fantastic breadth of knowledge on a range of topics. He delivers lectures and writes articles on a variety of legal issues. Steve leverages his insight and skills to provide the high-quality representation our clients expect.
McIntyre Tate LLP represents individuals involved in family and civil law matters in Rhode Island. For help from a firm that focuses on its clients' needs, contact us at (401) 351-7700.